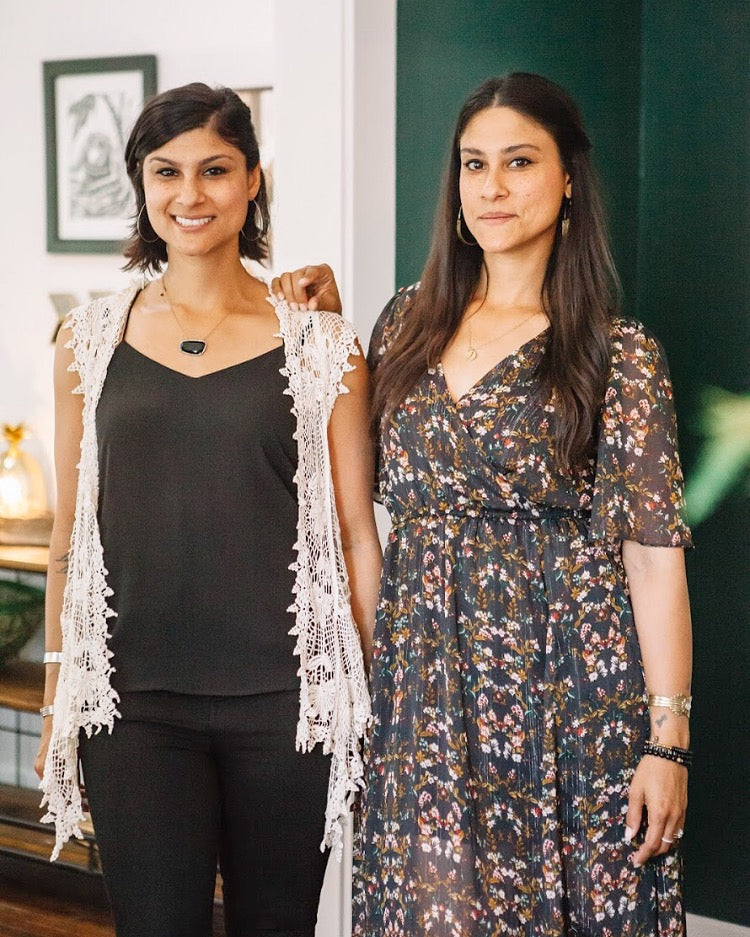 Identical twin sisters Lex and Alana LeBlanc have always been incredibly close—and unsurprisingly, have plenty in common: "We're both competitive, extremely driven, vegetarian—and we can't stand people who chew food loudly," the two, best known as the hosts of HGTV's Listed Sisters, confess.
Born in Los Angeles and raised in Las Vegas, the 35-year-old duo now live in Nashville, where the series, now in its second season, is filmed. The show follows the sisters as they help local families remodel and sell their old houses—and ultimately, find their dream homes. (Similar to Property Brothers' Jonathan and Drew Scott, each sibling specializes in one half of the home-owning process: NYSID graduate Lex is an expert in construction and interior design, while Alana, a RE/MAX Elite broker, is a pro at buying and selling.)
According to the pair, every renovation takes between four to six weeks, and they often work on multiple homes at a time. As for their favorite: "We will always love our first-ever renovation of Listed Sisters," Lex says. "The home turned out beautifully and we still remain friends with the family to this day."
The sisters are also business partners off-screen, jointly managing Lex's company—LAVA Home Design—which launched in 2014. The firm provides an array of interior decor, remodeling, and handyman services, along with a line of home accents and furnishings Lex curates herself. ("I love finding things at flea markets," she enthuses.)
Below, the twins reveal the best part about their jobs, discuss their favorite pastimes, and discuss most important move home shoppers should make before purchasing a fixer upper.
What brought you both to Tennessee?
Lex: Alana was living in Nashville working as a realtor in new construction and I was in New York when we realized we should join forces. Real estate and interior design go hand in hand, so I made the move, and the rest is history! We are so lucky to be able to work together everyday and help people create their forever homes.
What's the best part about your job?
Lex: The best thing about being a designer is that I get to choose the design style for each space on a case-by-case basis. I always figure out our clients' "design personality" and make sure the space functions for their needs and represents their lifestyle.
Alana: Being able to guide people through what most likely will be the biggest most emotional purchase of their lives.
How would you describe your own home?
Lex: I am currently renovating—almost done! I would describe the style as classic worldly with a modern twist.

What's your advice for home shoppers looking to purchase a fixer upper? (How can they tell if a property is a real steal or a bad deal?)
Lex: The most important thing to do when buying a fixer is to have a thorough inspection. Bring your contractor to the home to get his opinion and estimate of the scope of work before you seal the deal.
What's your favorite HGTV show (apart from "Listed Sisters")?
We love any show with the Scott Brothers. Could be the twin thing, or that they are two genuine people.
How long do you see yourselves living in Nashville?
We both love our city and don't plan on going anywhere anytime soon.
What's your favorite place to hangout in the city?
We love live music, and downtown has plenty of it!
Name a few things you like to do in your spare time.
Lex: I love to practice yoga, watch Netflix and chill!
Alana: Hiking, being out in nature and photography.
What's the greatest thing about being identical twins?
The best part is that we were literally born best friends. We know everything about each other and can always trust one another.
If you weren't in your current professions, what would you be doing instead?
Lex: I would be living on a beautiful island teaching yoga everyday, and Alana would be a world-class chef because she loves cooking!
About The Author